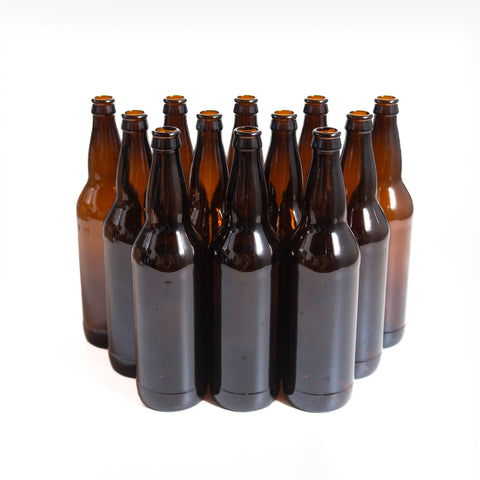 22 Oz. Beer Bottles
Need beer bottles for carbonating your home brew? Try our 22 Oz. Beer Bottles, perfect for carbonating, conditioning & storing your beer. Works well for bottling hard cider, kombucha or other bottle carbonated beverages.
This 12-pack of 22 Oz. Beer Bottles does not include caps, but are compatible with our Capping Kit and crown style pry off bottle caps. This traditional home brew bottle style is designed specifically to withstand the pressure of beer as it carbonates inside.
These 22 Oz. Beer Bottles work perfectly with our 1 gallon Home Beer Brewing Kit or 1 gallon Beer Recipe Kit, but can also be used to bottle larger batches of beer. One gallon of beer will fill roughly six of these 22 Oz. home brew bottles - so this 12 pack is perfect for storing 2 gallons of beer. 

Check out our blog for carbonation & bottling tips!

What Are The Brewers' Saying