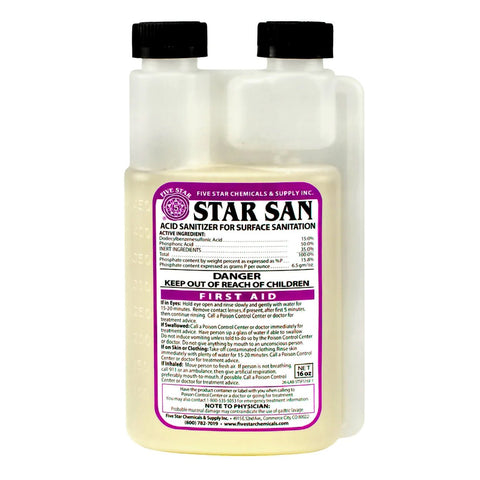 Star San
Star San Sanitizer a Craft a Brew favorite. This concentrated sanitizing solution is acid-based, but safe for humans and for the planet. It's made from food-grade phosphoric acid, meaning it is biodegradable and won't harm septic systems. An 8 oz or 16 oz bottle will last you a long time.
Check out our blog post - How to clean home brew kit equipment - for more information & tips on sanitation!
How to use:
Dilute 1 oz of Star San sanitizer per 5 gallons of water & soak homebrew equipment in the solution for 60 - 120 seconds. It will naturally foam, but does not require rinsing. Star San won't leave water marks on equipment and won't impart any odor or flavor to your beer.
This homebrewing sanitizer is our personal favorite for sanitizing the Catalyst and is perfect for any carboy, bucket or other fermenter. It makes a great soaking solution, but you can also store the diluted solution in a spray bottle - perfect for covering a lot of surface area with less effort. Once diluted, the solution is effective for up to 21 - 28 days in a sealed container.
NOTE:  Star San Sanitizer can not be shipped outside of the United States. This product can only travel via domestic ground shipping. We are unable to ship this item internationally or to military bases. Acid-based products will be rejected by customs and air mail shipping methods.
What Are The Brewers' Saying