Craft beer starts with water. As a homebrewer, you'll use gallons of it every year for your fermentations. The homebrewing community's connection to water inspired us to confront the global water crisis.
In 2022, we fully funded our first water project with charity: water to help end the water crisis, and bring clean water to those without access.
charity: water works with local partners to fund water, sanitization, and hygiene (WASH) programs in rural areas around the world. charity: water funds the most appropriate solutions for each community, whether it's hand dug wells, drilled wells, water purification systems, latrines & more.
771 million people live without clean water. That's nearly 1 in 10 people worldwide. With every gallon you ferment with our beer, wine & mead kits you'll donate 50 gallons of clean, safe drinking water to communities in need.

Brewing Good, Doing Good.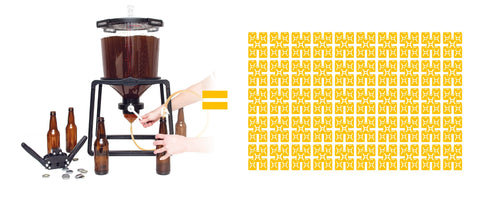 For every gallon you brew with our kits we'll donate 50 gallons of safe and clean drinking water to families around the world.

Clean Water Changes Everything
Safe water is necessary not only for drinking, but for health & hygiene, bathing, laundering, cooking and watering gardens. For families in rural communities, the miles-long hikes to fetch water are dangerous & exhausting. The daily responsibility falls often on women and young girls, keeping them out of school and out of the workforce.
We are on a mission to change this. Please support Craft a Brew and our water donation efforts through Charity Water.