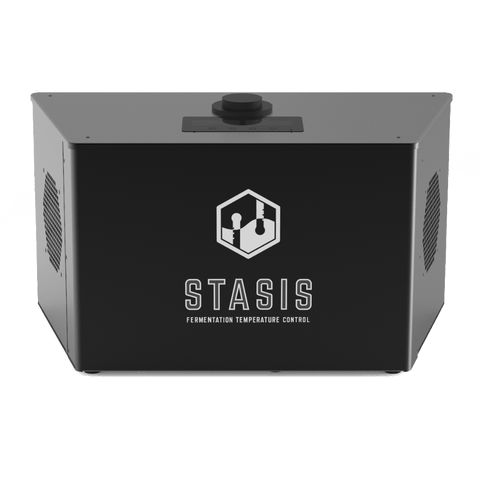 The Stasis (Glycol Chiller)
Accessories for The Stasis are available: CLICK HERE
The Stasis solves one of the biggest challenges in brewing great beer at home: precise fermentation temperature control.
We do this by scaling down the same glycol chilling technology used by big breweries into a compact, all-in-one temperature control solution designed for homebrewers.
The Stasis combines features previously seen only in commercial style glycol chillers and integrates them into a compact, all-in-one temperature control system specifically for a homebrewer's budget.
It's the first glycol chiller - ever - to feature internal pumps & thermostats. While most high-end chillers require you to purchase them separately in addition to the glycol chiller itself, these important components come standard-issue inside the Stasis. 
No matter what fermenter(s) you have, The Stasis works with your current homebrew setup. Precise digital controls allow you set independent temperatures for two different beers so you can ferment them side-by-side. Ferment an ale at a steady 68°F in one fermenter while you lager at a cool 50°F in another. Simultaneously cold crash an IPA below 36°F while fermenting a saison at 78°F.
 Stasis Specs:
120V
Powerful 1/5 HP compressor
Stasis cooling capacity is 1,700 BTU/hr -> Other 1/5hp competitor = 1,450 BTU/hr -> Stasis is much more efficient and powerful
Lowest set temperature 36°F
Type of glycol recommended: Propylene Glycol (food grade)
Stasis Includes: Stasis Unit, AC Power Cord (USA 120V Wall Plug), temperature probe assembly (Serial Plug to dual 6 foot probes)
 Dimensions:
Max Width: 21.125"
Total Height: 11.5"
Min. Width: 16"
Depth: 10.375"
***Discount codes do not apply to this item
Interested in a top-rated conical fermenter to go with the Stasis glycol chiller for homebrew? View our Catalyst Fermenter and learn more about the leading conical fermenter for homebrewing!

What Are The Brewers' Saying