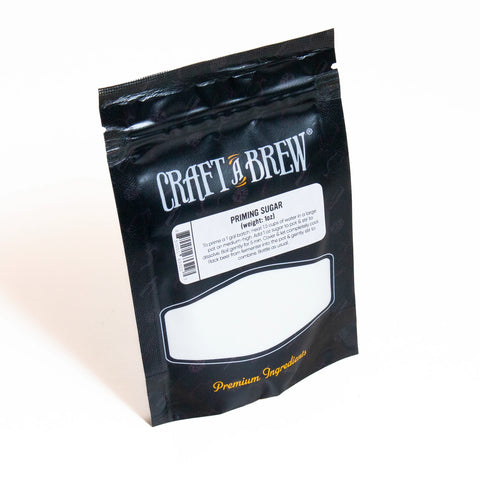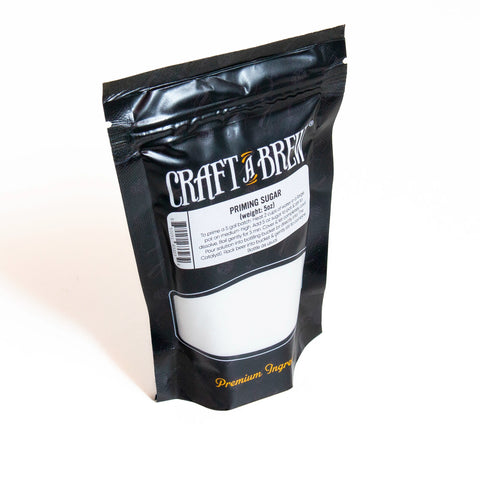 Priming Sugar
Priming Sugar for beer is used to prepare your homebrew for carbonation in bottles. Yeast converts this sugar into CO2 inside sealed bottles to create fizzy, carbonated brews.
Our pre-packaged Priming Sugar for beer (or hard cider) is perfect for an easy bottling day, whether you're using our 1 gallon Home Beer Brewing Kit, 1 gallon Beer Recipe Kit or our 5 gallon Beer Recipe Kit.
1 oz of priming sugar will carbonate 1 gallon of beer.

5 oz of priming sugar will carbonate multiple 1 gallon batches OR a single 5 gallon of beer.


Our priming sugar is dextrose (corn sugar), a neutral sugar that doesn't add to or alter the flavor of beer or hard cider during carbonation. It's a popular brewing sugar for bottle carbonation. If you're looking for bulk corn sugar, click here.
HOW-TO prime your beer for bottle carbonation:

1. After fermentation is complete, it is time to bottle your beer.

2. In a large pot combine the priming sugar with water.

For a 1 gallon batch, combine 1 oz (2 Tablespoons) priming sugar with 1.5 cups of water.
OR

For a 5 gallon batch, combine 5 oz (2/3 cup) priming sugar with 2 cups of water.
3. Bring to medium-high heat & stir to dissolve the sugar.
4. Boil for 5 minutes. Remove from heat, cover & let completely cool.
5. Once completely cooled, transfer your beer (or hard cider or hard seltzer) from the fermenter into the pot with the priming solution. Gently stir to combine. (Transfer priming sugar and beer into a bottling bucket when working with 5 gallon brews.)
6. Now your beer's ready to bottle, primed & ready for bottle carbonation!
Read our tips for bottling & carbonating your homebrewed beer on our blog -

CLICK HERE

!
What Are The Brewers' Saying