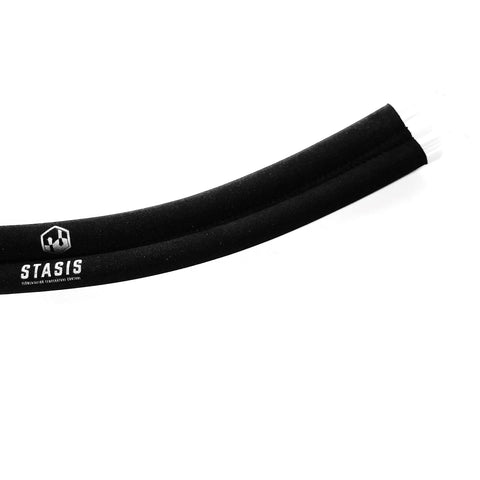 Insulated Tubing Kit (The Stasis)
This insulated tubing kit for Stasis Chiller use is used to connect your fermenter to The Stasis glycol chiller. This stitched neoprene insulation helps eliminate line condensation and increase cooling efficiency. 
Our custom made insulated tubing kit for Stasis Chiller includes:
2x 6ft lengths of transfer tubing
2x 3ft stitched neoprene tubing sleeves
4 metal worm clamps (for sealing the tubes to the Stasis in & out ports) 
This insulated tubing kit for Stasis chiller can insulate one OR two fermenters:
To chill TWO fermenters at once with this kit:

you'll cut both 6-ft tubes in half and thread through each of the neoprene stitched sleeves for two 3-ft connections between The Stasis and each of your fermenters.
To chill ONE fermenter with this kit: you'll thread the 6-ft tubes through both neoprene sleeves for a 6-ft connection between The Stasis and your fermenter. 
*You can use your own transfer tubing with The Stasis, but for the best performance and efficiency from the chiller we recommend insulating the tubing with this Insulated Tubing Kit for Stasis Chiller OR other pipe insulation (from the hardware store).
What Are The Brewers' Saying