Hard Cider Recipe Kit
Already have our Hard Cider Kit and ready for your next batch? Fill up your carboy or any 1 gallon fermenter with a Hard Cider Recipe Kit! This refill kit comes with all the ingredients you need. Our Hard Cider Recipe Kit includes 3 yeast packets, and 3 sanitizer packets so you can make 3 gallons of dry sparkling apple cider with your own equipment. You bring the juice; we bring the rest. Gluten free hard cider is made with your choice of natural apple juice, unfiltered juice, or even spiced apple cider.
WHAT'S IN THE BOX?
This Recipe Kit includes the ingredients needed to make your own hard cider:
A No-Nonsense Guide to Making Your own Hard Cider
Hard Cider Recipe (Sanitizer x 3, Yeast x 3)
*Cider not included. This kit work with any Apple Juice or Cider. 
*Not just for apple juice. Use this recipe kit to transform other fruit juices into fruit wine. We recommend using at least a 50% apple juice base to guarantee enough fermentable sugars for the yeast. Try half tart cherry juice or half pear juice or whatever your favorite flavor is!
Customer Reviews
24 November 2020
Charles G.
United States
Best Batch Ever!
Best batch I've made...not sure if it's the yeast, cider, or the siphon but this was my best cider batch ever!
16 November 2020
Mike c.
United States
Hard cider recipe
I just finished both a pear and apple set. They are fabulous. They came out perfect. I haven't brewed in decades, and am only now getting back into it. Ciders only. Not beer or wine. I couldn't have gone to a better place to get going. Thanks ....
03 November 2020
Connor W.
United States
Bought it for the yeast
As I cannot find this yeast on its own - I buy this kit for the fruits ale yeast strain that comes with it. Ferments the cider without leaving it too dry.
02 October 2020
derek d.
United States
Finally affordable and quality are one.
I've bought multiple kits from Craft a Brew and all have surpassed my expectations. The ease of brewing with their kits makes it fun, affordable, and delicious. I highly recommend purchasing their kits. The directions are easy to follow and they come with everything you need. I'm a very happy customer!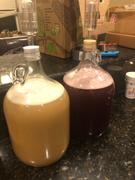 28 September 2020
Rachel L.
United States
Best Yeast for Brewing!!
I will only use this yeast for my future brewing. It's the only yeast I've never had any issues with.