Ball Valve for The Catalyst Fermentation System
The ⅜" ball valve sample port makes racking and sampling from the The Catalyst Fermentation System  even easier. Rack without the bottling attachment, sample with ease! Racking arm and o-rings are included.   Watch our video to learn how to install the ball valve!    
Customer Reviews
15 January 2022
Stacey F.
I love the way this ball valve works
This ball valve is perfect. It's easy to put on and use, and it works smoothly. I'm very happy with this essential piece. Thank you!
11 December 2021
Ricky C.

United States
29 August 2021
Logan K.

United States
A MUST for the Catalyst!
This is a must for the Catalyst. You can take gravity readings at any time. Because the inside sits above the trub, it makes kegging a few minute process with no siphoning or extra sediment in you beer. If you have or are thinking of getting a Catalyst, this is a no brained. EASY to install.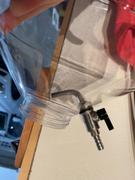 16 August 2021
Brian H.

United States
11 April 2021
Roger E.

Canada
great sample port
works as advertised. easily installed and after using it, easy to clean.