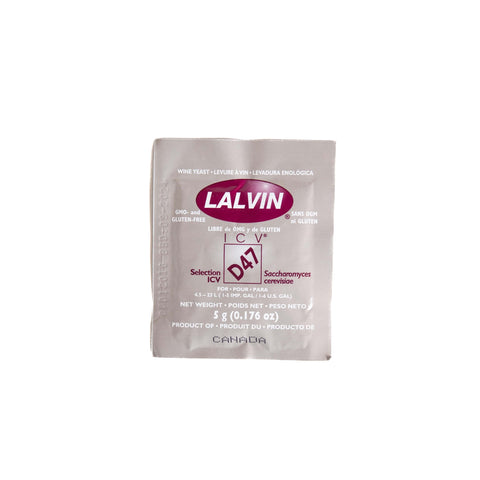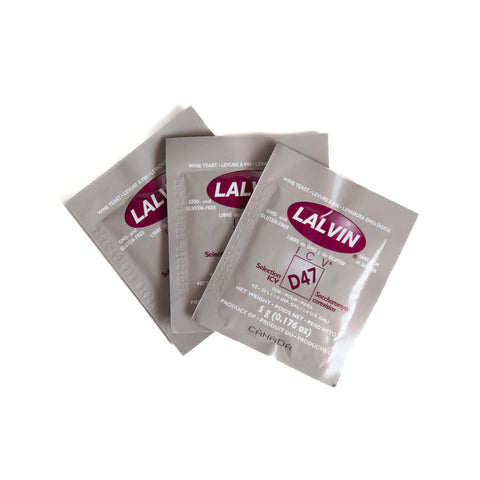 Lalvin ICV-D47 Wine Yeast
Looking for extra yeast for making mead? Try Lalvin ICV-D47 Yeast, often used for fermenting mead, Rosé, and white wines like Chardonnay!
Lalvin D47 Yeast leaves your fermented beverages with full body and a soft, silky mouthfeel. It can even contribute some citrus & tropical fruit notes.
This is the same yeast packet included in our Mead Making Kit. When used to ferment mead, yeast nutrients are recommended. Try our Mead Recipe Kit, complete with a packet of D47, and 2 packets of yeast nutrient & sanitizer.
D47 yeast is favored for its short lag phase, meaning the yeast starts fermenting quickly after pitching. It's a low foam producer, meaning less risk of messy blow off. It's also quite flexible, thriving in cool or warm fermentation temperatures: 59 - 86 °F!
This active dry yeast strain does not require hydration or a yeast starter to begin fermentation. This 5g packet treats a 5-6 gallon batch of wine OR a 1 gallon batch of mead.
What Are The Brewers' Saying