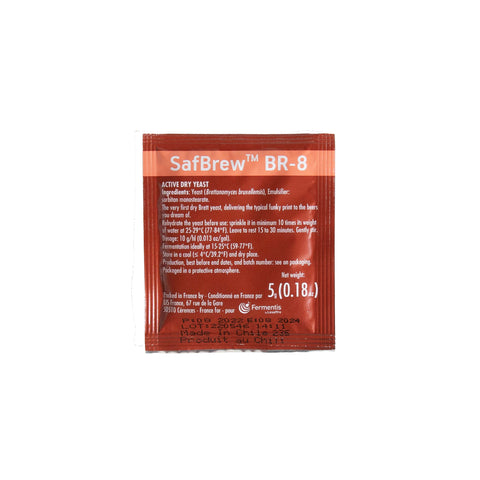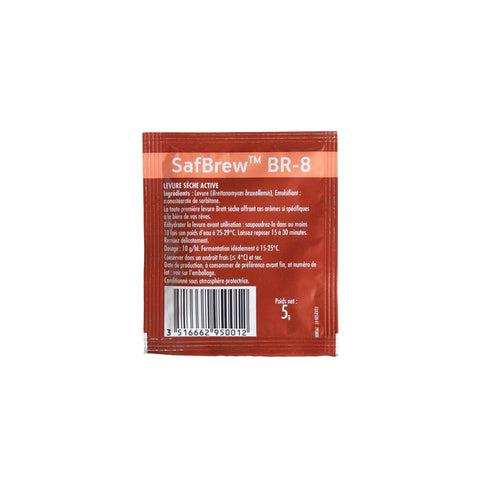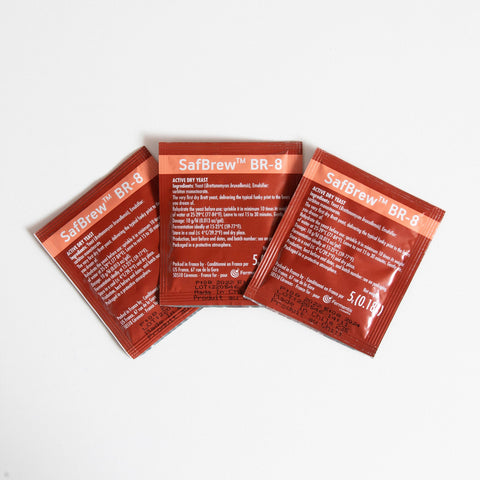 SafBrew BR-8 Yeast
SafBrew BR-8 is the first Brettanomyces bruxellensis yeast available in a dry format. This yeast is designed for bottling and/or cask conditioning. As a homebrewer you can enjoy the benefits of a wild brett yeast with the control and reliability of other dry yeasts. In other words: no risk of over carbonation in bottles or gushing.
Brettanomyces, or "Brett" is a wild yeast responsible for the signature funky flavors in Belgian ales & lambics. Brett yeast character is funky, spicy, fruity & tart. SafBrew BR-8 Yeast specifically produces aromas described as "pineapple, funk, barnyard, animal & leather." These flavors are created thanks to the yeast being able to ferment more complex sugars - glucose, fructose, maltose and maltotriose - that Saccharomyces can not.  
SafBrew BR-8 Yeast is a slow fermenting yeast, which requires a longer period of maturation of 1 - 3 months. 
Sprinkle the yeast in a minimum of 10 times its weight of sterile water at a temperature of 77ºF to 84.2ºF. One 5g packet should be rehydrated in 50 mL of sterile water. Let rest for 15 - 30 minutes. Gently stir until a yeast cream forms. Add rehydrated yeast and priming sugar to your beer. Because BR-8 is a slower fermenting yeast, a longer maturation period of 1 - 3 months in bottles is required. Ferment bottles at 59 - 77ºF. After 1 - 3 months, carbonation will be achieved. At the end of this fermentation, beer can be chilled and will gain "roundness" after 2 - 3 weeks. NOTE: if carbonating at the lower end of the recommended temperature range carbonation may take more than 3 months.

What Are The Brewers' Saying