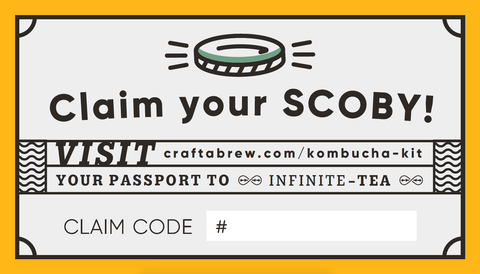 SCOBY & Starter Liquid (Redeem w/ Claim Code Only)
Redeem your SCOBY Claim Code!
If you already have a Kombucha Starter Kit and still need your SCOBY - you're in the right place.
1. Add this SCOBY to your cart.
2. Proceed to checkout. In the "Gift card or discount code" field, enter your SCOBY Claim Code & apply.
3. No payment will be collected. Your SCOBY (& shipping) will be FREE! It will ship via USPS First Class Mail in a padded envelope. If you can't receive USPS deliveries at your address, please contact us before claiming. 
Note: if you do wish to add other items to your cart, you will be charged shipping for the additional products. The SCOBY will remain FREE of charge.
What is a SCOBY?
The acronym stands for Symbiotic Culture Of Bacteria & Yeast. The SCOBY is responsible for fermentation and it gives kombucha it's health benefits! Hold on to your SCOBY after each batch of kombucha - it'll help you brew future batches! 
Your individual SCOBY is grown from scratch in its own container, so the appearance will vary. It will average 3 - 4" in diameter, but it will grow to fit your fermenter. Your culture may be thin or thick, opaque or see-through, dark or light, smooth or textured. It may fold in transit, the pouch may also expand. Your SCOBY might have a few layers that may split or stay connected, it may also have some floaters. 
NOTE: ALL SCOBYs ship via USPS in a padded envelope. If you can't receive USPS deliveries at your home, please contact us BEFORE ordering.
Our SCOBYs are grown at our facility for ultimate freshness. Due to high order volumes and colder winter temperatures, SCOBY claims may require up to 2 weeks to be processed for shipment. You will receive a tracking # as soon as your fresh, homegrown SCOBY has left our facility! 

What Are The Brewers' Saying