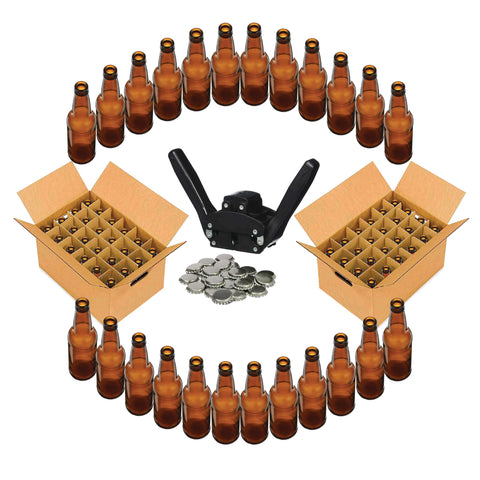 5 Gallon Deluxe Bottling Kit
Our 5 gallon beer bottling kit comes with everything you need to bottle and carbonate large batches of beer. After fermentation, your beer needs to be bottled & sealed in order to create a fizzy finished product.
This all-in-one bundle includes bottling supplies for two 5 gallon batches. A gallon of beer yields about 8 - 10 12oz beers, so you'll need nearly 50 bottles to carbonate 5 gallons of liquid gold.
These high quality amber bottles are ideal for protecting beer from harmful UV rays, which can cause "light strike," or skunked beer. These bottling supplies are specially designed to withstand the pressure of beer as it carbonates inside.
What's included in this beer bottling kit?
48x 12oz glass amber bottles
capper tool
100 pry-off bottle caps (single use caps, enough for two 5 gallon batches)
*This beer bottling kit is designed to be used with our 5 gallon beer recipes.
Check out our blog for carbonation & bottling tips!
What Are The Brewers' Saying